Welcome to BLOODHOUND HAVEN The best Bloodhound Haven in Georgia
Purebred Bloodhound Puppies are on premises.
Prices start at only five hundred.
State licensed.
I welcome law enforcement agencies & pet stores.
I usually have puppies all year round.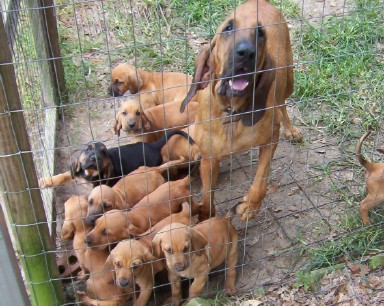 Colors are: Black & Tan...Red...Liver & Tan, also called "Saddleback".
LOOKING FOR A BLOODHOUND?
Bloodhounds are excellant family pets because they are so gentle and laid back. Bloodhounds are the world's best tracking dogs and are used by law enforcement agencies to track missing persons as well as escaped criminals.
Bloodhounds are easily trained and easy to care for. Proper care and training is a big responsibility but Bloodhounds are definately worth it!
CONTACT INFORMATION
Give me a bark anytime for more information.
(478) 945-2372
or email:
WEBAMSTER@BLOODHOUNDS.20FR.COM
OTHER THINGS TO KNOW:
Cash only please

Customer makes all arrangements for shipping

Serious inquiries only please